Clopay Carriage House Garage Doors
The classic style of Clopay carriage house garage doors is easy to recognize
The overhead doors that consist of horizontally laid panels are made to appear as authentic carriage double doors with swing operation. At the same time, they have all the functionality of modern units. There is a range of structure, design and make options available.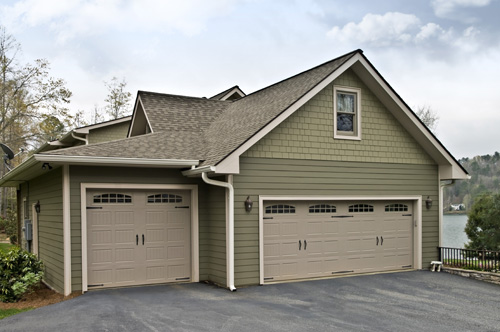 Even though all models are made to resemble original carriage house doors, there are style variations worth noting. The Coachman collection of the brand offers authentic looking units with cross overlay. The top section appears to be arched. The Grand Harbor collection has models with straight lines and flat panels. The Canyon Ridge collection offers models with recessed panels and elegant decorative hardware components. The models of the Gallery collection have grooved panels and can come with square windows.
All of these collections feature steel doors. With some of them, it is possible to have the door made from composite material rather than from steel. They all offer insulation options as well. There is a choice between doors with different types of insulating material. One of the options is polyurethane foam and the other one is to have polystyrene panels. The structure of the Clopay carriage house garage doors can vary as well. It is possible to get a model with a single layer of metal or composite material. The units with two to five layers all feature insulation.
The doors in the Reserve Wood collection differ from the others in carriage house style not only because they are made from wood. It is possible for the door's design to be fully customized and for the unit to be made from handcrafted wood. They are semi-custom options available as well.