Garage Door Springs
Back To Our Services
Your garage door's springs are possibly its most important components. They are installed in pairs on opposite ends of the door, and work together to ensure that it is always correctly aligned and safe to use. They are, unfortunately, liable to take damages from an array of uncontrollable sources and so need repairs or replacements from time to time. But when this happens, all you need to do is call for the assistance of a repair company or technician.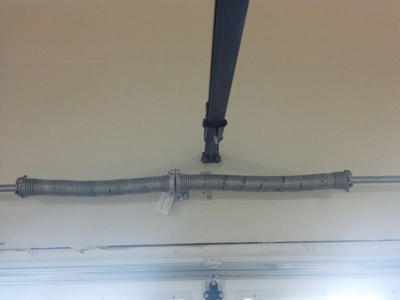 Damage from Rust
Rust is a common cause of failures and damages being inflicted on metallic components. Typically, rust occurs in the presence of a consistently damp climate, or one that is coastal. When your door springs suffer from the onset of rust, its spread can quickly undermine the structural integrity of your spring, meaning it is more likely to fail unexpectedly. For this reason, a rusted spring should be replaced as soon as possible before it becomes a major problem.
Galvanic Corrosion
Galvanic corrosion looks and works similarly to rust, in that it also weakens the structure of your spring significantly. This is usually caused by their contact with other metals that are electrified, which results in the spreading of a grey-blue rust-textured material on your springs. Galvanic corrosion can spread relatively quickly if left unchecked. A great way to avoid the onset of corrosion, is to opt for the installation of galvanized garage door springs which are more resistant to rust and corrosion.
Wear and Tear
Old age claims everything at some point, and your garage door springs are no exception. The constant stress under which they operate takes its toll on them after a while, and can eventually lead to their breakdown. If you can spot any signs of stress marks such as cracks or distortions on your springs, you'll need to have them replaced or repaired as soon as possible.
Contact Us Now for Garage Door Spring Replacement
So contact a technician from Garage Door Repair Sylmar today and speak to us about information on our services, get some advice or receive a quotation.